98% of customers recommend purchasing from us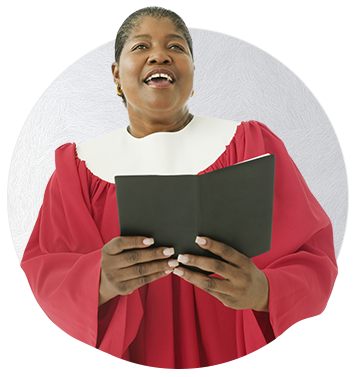 Discount Choir Robes! Everything your choir needs in just a few simple clicks
Outfit your choir for less at ChoirBuy! We are the nation's leading source of choir apparel and we offer your choir attractive, comfortable choral apparel and accessories with a value for money just as wonderful as our products.
Enjoy our easy ordering process, our strong return policy, our options for free shipping and overnight delivery, and our wide range of products for all sorts of choirs—all with the comfort of knowing you can order online any time at your convenience.
Lowest prices, guaranteed
All items come in a wide variety of colors
All colors come in a range of materials
Plus sizes available
Save more when you order packages or buy in bulk
Options for overnight delivery
Why wait? Getting your discounted choir robes to look performance-ready can now be as easy as a few simple clicks. Order now and save today!
Reviews & Testimonials
See why 10,000+ customers are choosing ChoirBuy.com!
All reviews
Val K.

Kentucky, US

"Super fast and easily navigated website! Thanks for making it so easy!"

February 27, 2023

Mimi H.

Florida, US

"A smooth ordering process. Looking forward to receiving our products."

February 23, 2023

Olufunmilayo F.

Texas, US

"Smart shopping. Hope my order will arrive fast.Just exactly want I wanted. Arrived faster. I love it. Perfect fit."

February 21, 2023

Lady P.

New Jersey, US

"I ordered 2 red choir robes size 60 that were too small for my choir members. I want to send them back and get reimbursed please.Lady Peachena"

February 20, 2023

Richard T.

Virginia, US

"Very easy ordering process! I pray the quality is as good as it looks online! Hoping to use these robes for our cantata on Easter morning!"

February 17, 2023

Narcisse D.

Pennsylvania, US

"Website easy to navigate. Waiting for my order before review"

February 16, 2023

Anita J.

North Carolina, US

"Great Quality, purchased 1 to see the quality of the stole. Beautiful!!! Our choir loves....I hope the 25 I just ordered are as nice. Thank you"

February 14, 2023

Beverly B.

West Virginia, US

"Sampson was very polite and helpful."

February 9, 2023

Sophia T.

New York, US

"Was easy. Saw what I wanted and bought it. Thanks"

February 8, 2023

Cheryl K.

Michigan, US

"It was quick and easy. The young man who helped me on the phone was extremely patient, polite, helpful, and professional."

February 6, 2023
Val K.

Kentucky, US

"Super fast and easily navigated website! Thanks for making it so easy!"

February 27, 2023

Mimi H.

Florida, US

"A smooth ordering process. Looking forward to receiving our products."

February 23, 2023

Olufunmilayo F.

Texas, US

"Smart shopping. Hope my order will arrive fast.Just exactly want I wanted. Arrived faster. I love it. Perfect fit."

February 21, 2023

Lady P.

New Jersey, US

"I ordered 2 red choir robes size 60 that were too small for my choir members. I want to send them back and get reimbursed please.Lady Peachena"

February 20, 2023

Richard T.

Virginia, US

"Very easy ordering process! I pray the quality is as good as it looks online! Hoping to use these robes for our cantata on Easter morning!"

February 17, 2023

Narcisse D.

Pennsylvania, US

"Website easy to navigate. Waiting for my order before review"

February 16, 2023

Anita J.

North Carolina, US

"Great Quality, purchased 1 to see the quality of the stole. Beautiful!!! Our choir loves....I hope the 25 I just ordered are as nice. Thank you"

February 14, 2023

Beverly B.

West Virginia, US

"Sampson was very polite and helpful."

February 9, 2023

Sophia T.

New York, US

"Was easy. Saw what I wanted and bought it. Thanks"

February 8, 2023

Cheryl K.

Michigan, US

"It was quick and easy. The young man who helped me on the phone was extremely patient, polite, helpful, and professional."

February 6, 2023